The Canvas Shop
You Dream It, We Build It
The Canvas Shop, LLC. has been in business for over 40 years and specializes in creating custom covers for many applications. We work with various materials including canvas, vinyl, webbing, clear vinyl, marine fabrics and mesh screen.
We are always looking for new products and striving for better quality to exceed our customer's satisfaction. Our goal is to provide you with quality products at a fair market price. Please call or stop in and find out what we have to offer you.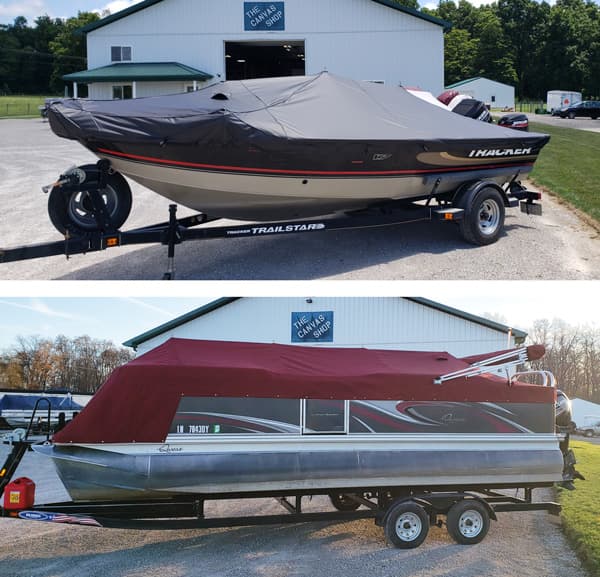 Products
Our main focus is creating custom covers and tarps for many product applications. We are always looking for new products to bring to the marketplace that enhance what we do as well as strive for better quality.
We proudly stand behind our durable and fade resistant Sunbrella products. With built-in UV protection, our Sunbrella covers are specifically designed to safeguard your boat, pontoon, lift covers, patio furniture, and more! Made to last, our covers are also:
-Mold/mildew resistant
-Bleach cleanable (without the color fading)
-Warranted for 10 years by Sunbrella
For pontoon and boat covers we use a material called Aqualon. Aqualon is a vinyl coated polyester canvas that is made here in the USA. Aqualon has excellent dimensional stability and weight-to-strength ratio. The material remains flexible in all climates and is resistant to mildew, abrasions, water penetration, most petroleum products, ultra - violet rays, as well as a wide range of acid and alkaline liquids. Aqualon comes with a 5 year warranty.
On some boats we use HarborTime®, a marine grade fabric made from acrylic-coated polyester, ideal for harsh marine environments because it offers exceptional resistance to abrasion while maintaining superior strength and visual appeal. Harbor-Time® is highly water repellent and resistant to both mildew and ultraviolet light making it ideal for a wide range of marine and automotive applications, including bimini's, T-tops, mooring and travel covers, and splash curtains.
We offer many colors in the materials we use to accommodate most requests. Also available are many different vinyl's, canvas, screens, sunshades and much more!
Product Applications
Our main focus is creating custom covers and tarps for many product applications. To accomplish this work we use vinyl, canvas, marine fabric, mesh, screen, clear vinyl and webbing materials.
Here is a partial list of what we specialize in: